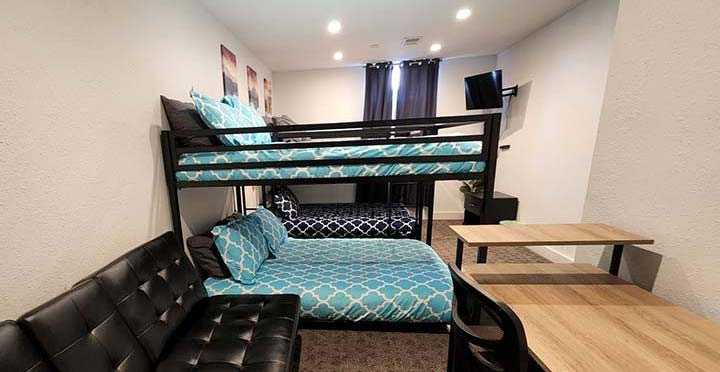 If you're looking for a 420-friendly vacation rental in Denver, KushKations Quivas is the perfect place for you. We've just added new double bunk beds to our rooms, so now you can enjoy even more space and comfort during your stay. Plus, our central location means you can easily access all the best that Denver has to offer. So come on down and see us today!
KushKations Quivas Vacation Rentals has new double bunk beds!
If you're looking for a luxurious way to stay with your closest friends, consider booking your next getaway at KushKations Quivas Vacation Rentals. Some of the rooms now have brand-new double bunk beds, perfect for making sleepovers more comfortable and enjoyable! Not to mention, every rental includes modern updates and amenities like Wi-Fi, outdoor fire pits, and dedicated parking areas. With comfort and convenience on top of your mind, there's no better place to embark on your next adventure!
Some rooms have been updated with new furniture, including a comfy couch and TV
The comfort of your room should never be overlooked! That's why KushKations Quivas is excited to announce that their rooms have been upgraded with brand-new furniture and amenities. Now, you can relax after a long day in an updated environment, complete with a comfy couch and even a flat-screen TV! Don't settle for anything but the best, choose KushKations Quivas for your next stay.
The kitchen has been fully stocked with all the cooking utensils you'll need
At KushKations Quivas, trying out your culinary skills has never been easier! Our newly updated kitchen is stocked with all the tools you could need for a delicious home-cooked meal, from pots and pans to whisks and aprons. Whether you want to make a five-star dinner or simply some good old comfort food, our kitchen has got you covered! Plus, with this luxurious stay just steps away from the fun, who knows – maybe you can add put your culinary skills to work and come up with your own KushKookin flovors? Create magical memories and scrumptious meals at our fantastic getaway!
The backyard now has a brand-new hot tub for guests to enjoy
Are you ready for a splash? KushKations Quivas just made summer even better with their brand-new backyard hot tub! Bliss out on any of these features and enjoy the perfect day out. The aquatic area offers an ideal place to cool off from the sun and jump through the cold sprinkler or, prefer something a little more laid-back? Grab a few friends for an afternoon spent in the cozy waters of the hot tub. Get ready to enjoy the water and make some unforgettable memories at KushKations Quivas!
Come stay at KushKations Quivas Vacation Rentals for the best 420 friendly vacation experience ever!
At KushKations Quivas you'll find accommodations that have been recently updated to make your 420 friendly vacation extra special! Enjoy comfortable furniture, stunning facilities, and the latest amenities. Plus, you'll have plenty of activities to choose from both on-site and off-site. You could lounge in the pool all day, explore local attractions or retreat to your room for a movie night. Experience top-notch service and hospitality every step of the way – making KushKations Quivas an ideal place for your dream 420 vacation!