Looking for a weekend escape? The crisp fall air is here and that means your Colorado weekend escape to Denver is too. Our 4 bedroom 2 bath weekend escape features hot tub bliss, a deluxe home theatre, and more. Book your hot tub weekend escape at the Beach property with KushKations for your next weekend escape.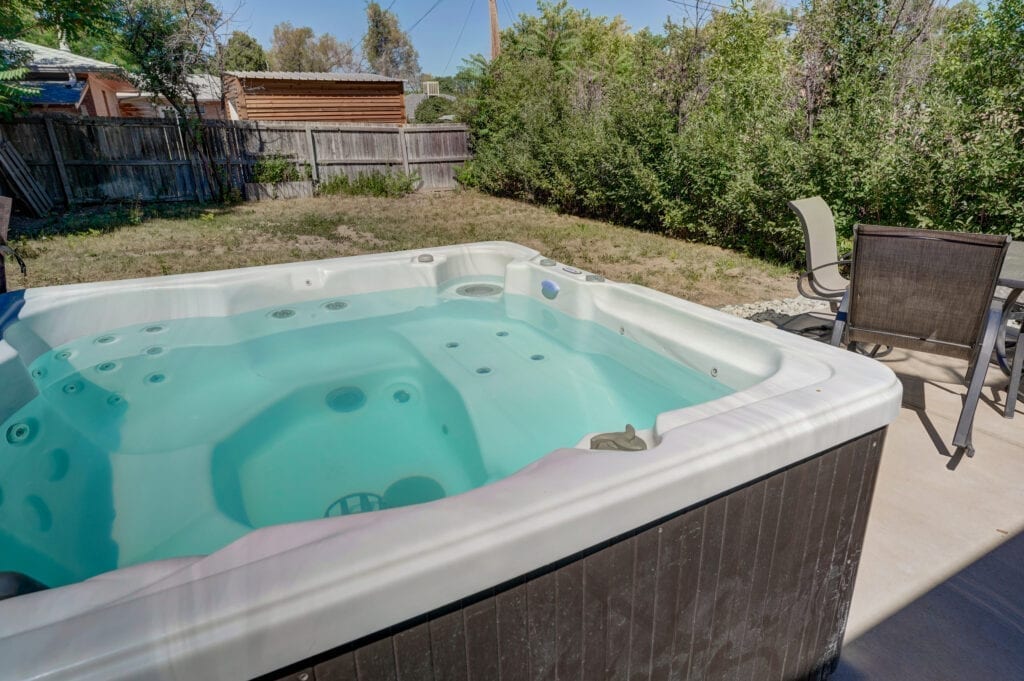 You're in luck because we have the perfect in-town hot tub beach experience for you. Our Beach property is located on the quiet side of the city where the vibe is chill, giving your KushKation trip that unforgettable feel.
With an outdoor hot tub and a fire pit, this place is perfect for relaxing with friends or family. The best part about our Beach property is that it's only a short drive from Denver so you can enjoy all of the exciting metro area activities while still having access to great amenities like these!
This beautiful Colorado home features 4 bedrooms and 2 bathrooms
There will be plenty of room for everyone in your group. There are also two parking spots available at no extra charge which means less hassle when trying to find a spot near the house during your stay! We know how important convenience is when booking a vacation rental so we made sure this was one of our top priorities when designing the Beach property.
Book Beach Property near Denver now:
What more does Beach Property offer for my Colorado weekend escape?
A weekend escape to the Beach property near Denver this fall with KushKation Vacation Rentals means a getaway to a steamy blissful hot tub weekend. The crisp fall air and the high vibes that KushKations offers while staying at Beach property will remind you of a time where life was a vacation.
The Lounge: The vaulted ceilings that enclose the lounge are covered with magnificent windows that allow the radiant Colorado sunlight to pour into the open floor plan and brighten up the mood. This area is fully stocked with a POOL and FOOSBALL table where you can pass the time of your late evenings with a few relaxing games. There is a Smart TV with Hulu Live and Prime TV in the lounge. With the 9 people seating in this huge space, the Beach location is the ideal property for any family/social gathering. Your 420 essentials that are free to use for all KushKationers are located in the lounge area. These accessories include a bong, pipes, papers, grinders, and more.
The Theater Room: Walking down the steps from the lounge will lead you to the home theater area. The 120in the projector is equipped with a Firestick, including Prime TV and Hulu Live TV. There are 6 brand new electric theater recliner chairs with adjustable headrests as well as a soft plush futon perfect for stretching out while you watch the big screen. There is a popcorn machine and bar in this area where you can whip up some fresh, buttery popcorn to enjoy with your movie. You can also play a fun game of darts in the theater room during a commercial or while a friend with the munchies pauses for a snack.
The Beach property, located just minutes from Downtown Denver offers the luxury of an aquatic adventure and the convenience of a perfect place to vibe on your after-party. Just an Uber or Lyft away from the busy bustle of Downtown Denver and you will find yourself immersed in the shops, restaurants, and tours of some of the finest Denver dispensaries. This is your chance to experience Colorado like never before!
You'll be able to enjoy all that nature has to offer while still having access to some of the best restaurants and bars in town. If you are looking for a weekend escape where you can go for a quick nature walk and then relax by the fire pit or take a dip in our private hot tub, then look no further than The Beach property at KushKations Vacation Rentals.
Book now before it's too late!
Click here right now and book your next weekend escape with us today!
Thank you for reading the article entitled "The number 1 reason why a KushKation weekend escape is worth it.".
I hope this article was informative and answered some questions that you had about the weekend escape at The Beach property near Denver, Colorado. If it did, please consider sharing this article to your social media page(s)