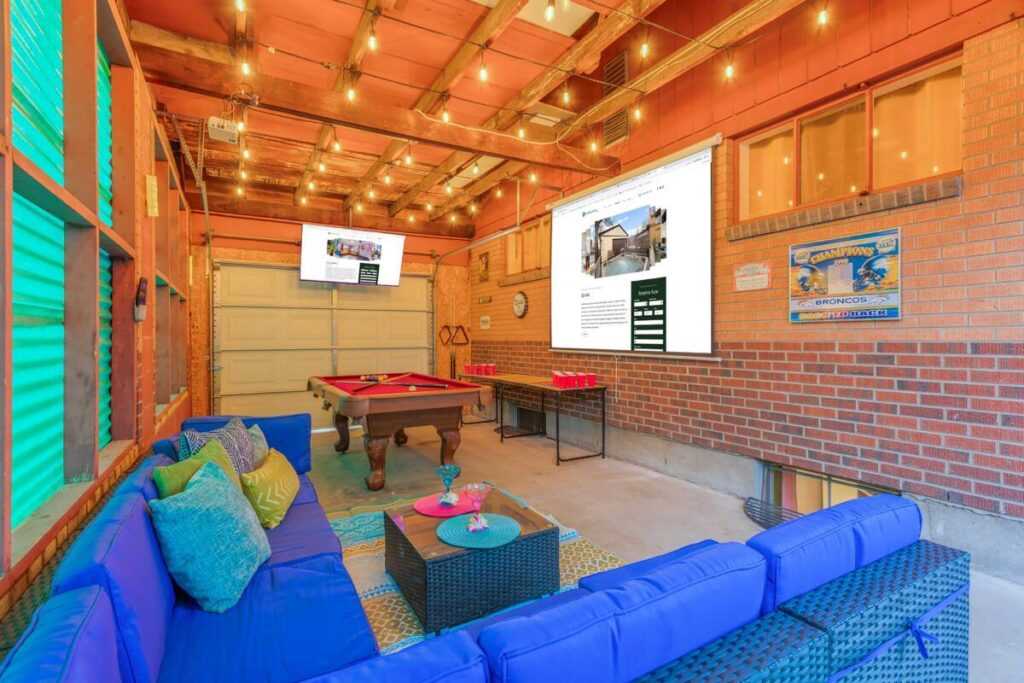 Are you seeking an unforgettable 420 friendly retreat getaway in the heart of Denver, Colorado? Look no further! KushKations Indica offers the ultimate 420 friendly vacation rental experience and is the Best 420 Vacation Rental in Denver Colorado. This recently remodeled, 5-bedroom, 2-bathroom home is conveniently located just 10 minutes away from downtown Denver and the iconic Red Rocks Amphitheater. Indica's open floor layout, ample seating, and numerous amenities make it the perfect choice for entertaining your party. Whether you're planning a laid-back trip with friends, a rejuvenating mental health retreat, or a fun-filled family vacation, KushKations Indica has something for everyone. From the fully stocked remodeled kitchen to the private backyard with a movie projector, hot tub, and fire pit, this stylish home is designed to impress and provide endless enjoyment. Book your Kushkation today and indulge in a memorable, 420 friendly experience!
A Perfect 420 Friendly Retreat
Are you a cannabis enthusiast looking for a vacation that caters to your lifestyle? KushKations Indica is the answer! This 420 friendly vacation rental in Denver, Colorado, ensures you'll have an enjoyable and relaxing stay. With its spacious layout and multiple rooms, the property offers plenty of room for you and your friends to enjoy your Kushkation to the fullest.
420 Friendly Retreat with Endless Entertainment Inside
Step into the world of entertainment with KushKations Indica! Indoors, you'll find a range of amenities to keep everyone entertained. Relive the nostalgia of retro arcade games or have a movie night in the 6-seat theater room. After a day of exploring Denver, unwind in the massage chair and experience the ultimate relaxation. The living area is perfect for accommodating multiple guests, with two stylish sleeper sofas and a 50″ flat-screen TV featuring Hulu Live TV. The dining area adjacent to the living room offers ample seating, making it ideal for gameday events, smoke sessions, and other gatherings.
A Dream Backyard for Socializing 
The fun doesn't stop indoors; KushKations Indica boasts a stunning private backyard that's perfect for socializing and making memories. Host movie nights under the stars with the outdoor projector, or gather around the cozy fire pit area for intimate conversations. The 6-seater hot tub provides the ideal setting for relaxation, while the propane gas grill lets you whip up delicious meals for everyone to enjoy. Whether it's daytime fun or evening relaxation, the backyard has it all.
Comfortable Bedrooms for All Guests
At KushKations Indica, ensuring everyone's comfort is a top priority. The property features 5 tastefully furnished bedrooms with a total of 11 beds. Two bedrooms have king-sized beds, two bedrooms feature bunk beds, and the final room has a bunk bed with an additional queen bed. Each bedroom comes equipped with a 32″ TV with Hulu Live, hangers, and laundry baskets. Privacy is key, and guests will feel right at home in their well-appointed bedrooms.
Explore Denver and Beyond and book your 420 Friendly Retreat
While KushKations Indica offers an array of entertainment options, exploring Denver and its surroundings is a must. Located just 10 minutes from downtown Denver and the famous Red Rocks Amphitheater, you'll have easy access to a plethora of exciting activities, top-notch restaurants, and beautiful parks. For easy transportation, consider utilizing rideshare services like Uber or Lyft, or take advantage of Denver's efficient light rail system to get around town hassle-free.
The Best 420 Vacation Rental in Denver Colorado
In conclusion, KushKations Indica is the premier vacation rental in Denver, Colorado, offering a perfect 420 friendly retreat for all. From its stylish and fully equipped interior to the entertaining backyard, this home has everything you need for an unforgettable vacation. Whether you're planning a group trip with friends, a family getaway, or a well-deserved mental health retreat, KushKations Indica is the ultimate destination. Book your Kushkation today and prepare to be amazed by the best vacation rental in Denver!