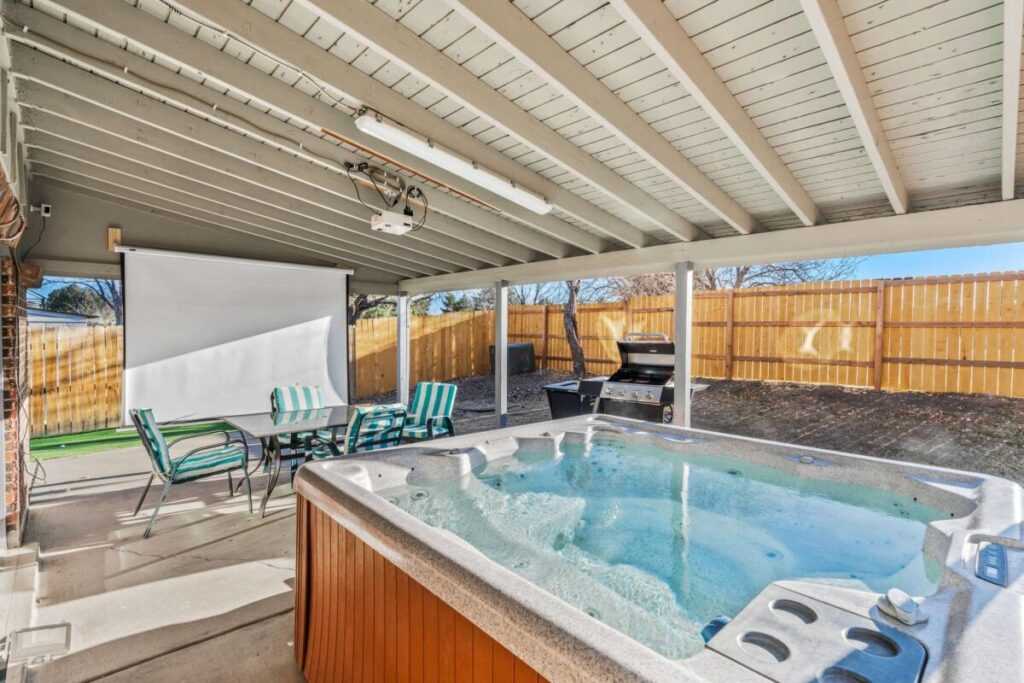 Denver, Colorado is one of the United States' top tourist destinations, and with the cannabis industry booming now is your chance to visit. Read for yourself why KushKations  7 top-rated Denver vacation rentals in Colorado have people talking. 
KushKations is a brand that provides luxury cannabis vacation rentals in Denver, Colorado.  KushKations 7 420 friendly vacation homes are listed as 7 of the top Denver vacation rentals according to popular travel sites such as TripAdvisor and Google. Each property has a vibe and unique style that will have you quickly booking your dream Denver, Colorado vacation.
KushKations 7 Top-Rated Denver Vacation Rentals are spacious and luxurious.
With 7 top-rated Denver vacation rentals, KushKations is sure to have a size and style that will accommodate your needs while away on vacation in beautiful Colorado.
Take a look at the 7 KushKation Properties
Beach Property
This lovely house is 420 friendly, allowing you to enjoy cannabis in the privacy of your own home. There are several premium services available at this 420-friendly site, including an in-home theater, hot tub, pool, and foosball table among other amenities. Enjoy a game night with your friends in the lounge, where the open floor plan makes for a perfect social area.
Pierce Property
This property really has it all with a steamy brand new hot tub with 30+ jets, an in-home theatre with a 120-inch projector, and a beautiful front porch with a newly furnished patio set, fire pit, and waterfall are all included in this 4 bedrooms 2 bathrooms house. In addition, KushKation also includes a fully loaded game room with foosball, air hockey, basketball, and a retro Pac-Man arcade game.
Quivas Property
KushKations Quivas is a lovely 420 friendly, 5 bedroom, 2 bathroom home situated 10 minutes from Denver, Colorado! Pull into your private driveway as you host guests at Quivas with a theatre room, game room, hot tub, and much more. KushKation Quivas is a beautiful and modern home designed for discerning buyers who care about their homes. Every room, from the kitchen to the bathrooms and all through the house, has been completely renovated. Your visitors will feel right at home during your KushKation experience, which is 420 friendly!
Hot Box Property
KushKations Hotbox is a stunning 420-friendly destination. The 4-bedroom, 2-bathroom house is located 10 minutes from downtown Denver, Colorado! KushKations features a pool table, foosball table, two 50-inch TVs, and a theater room. We also have a hot tub, a basketball hoop, and an outdoor gas fireplace in the backyard. KushKations Hotbox is a beautiful and contemporary house with the finest appliances and a gorgeous remodeled kitchen and bathrooms! Make your reservation now.
Ganja Property
KushKations Ganja is a beautiful and spacious 420 friendly, 6 bedroom, 2 bathroom home 10 minutes from downtown Denver in Colorado! The sunroom at KushKation Ganja has air hockey, a Skee ball, and a foosball table. It also includes a magnificent theatre room with a 120-inch projector screen for watching your favorite sports and movies. KushKations is a beautiful home with a pool table, a brand new hot tub, and a 50-inch Roku TV for entertaining! Host your next vacation here and wow all of your friends and relatives with this lovely 420 friendly house!
Chronic Property
KushKations Chronic is a stunning and spacious 420 friendly 6 bedroom 3 bathroom home with three parking spots located 10 minutes from downtown Denver, Colorado. & Red Rocks Amphitheatre! Chronic is the place to go if you're looking for a unique holiday getaway. The home has an outdoor movie theater, hot tub, and private enclosed backyard with plenty of games and amenities to keep your visitors occupied. The theater room at the Hilton Phoenix North is ideal for watching sports and movies, with a 120-inch projector screen and six luxurious recliner chairs.
JoyStick Property
KushKations Joystick is the newest addition to our properties. 420 friendly home with 4 bedrooms and 3 bathrooms is available for rent in Loveland, Colorado! 15 minutes from downtown Denver, Colorado. The property has two game rooms, an open floor plan kitchen/dining room, a mini-golf course, a 6 seater hot tub with a private enclosed backyard where you may host your visitors.
Two luxury theater rooms are available: one inside and one outside. On the other side of the house, you'll discover a private deck that offers spectacular views of Calgary. This wrap-around patio boasts a double hot tub for two people or one for four! You'll want to relax in one of the luxury theatre chairs and/or outside in the deep tub with your sweetheart on a warm summer night. This exquisite 420 friendly home will make a perfect host for your next vacation and will impress all of your friends and relatives!
Colorado has 7 of the top 100 mountain peaks in the United States, 7 National Parks that are perfect for hiking, biking, rafting, and more. 7 top-rated Denver vacation rentals to check out while you visit.
Kushkations knows how much planning goes into a trip so they have made it easy for their guests with this Planning a KushKation Guide. This guide will help you on your way to planning a memorable Kushkation adventure  It has Denver a resource list that provides all the information you need as well. From
In conclusion, hope you enjoyed the 7 top-rated Denver vacation rentals KushKations offers. If you haven't already, make sure to check out 7 Top-Rated 420 friendly Denver Vacation Rentals for your next vacation! To learn more about KushKations read our About Page