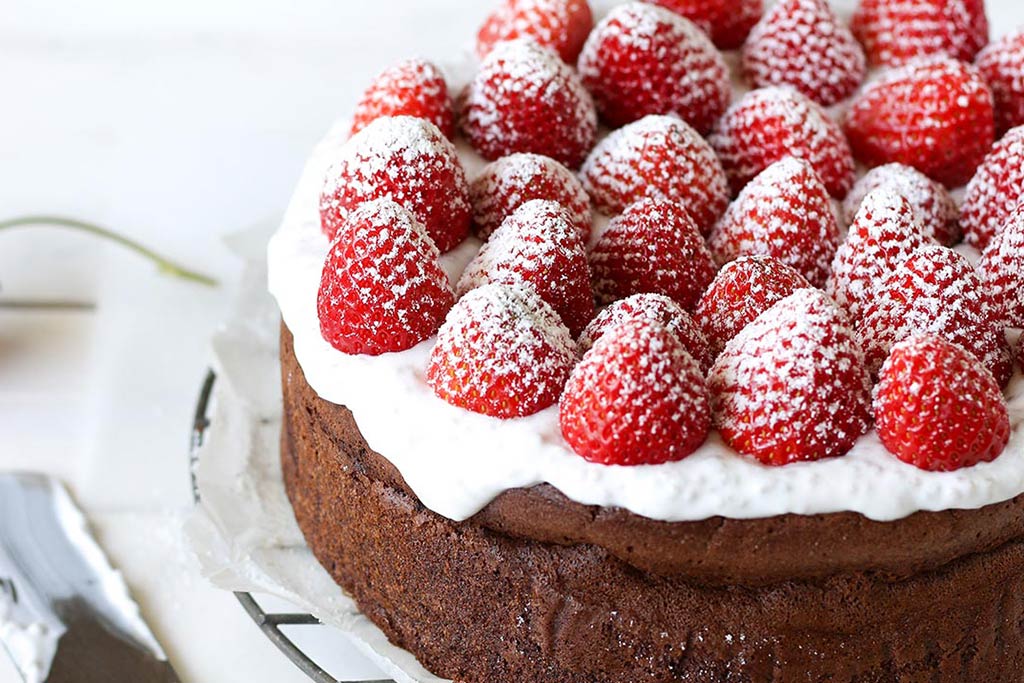 Preparation:
15 mins
Bake Time:
23 to 27 mins
Total Time:
1 hr 38 mins
Visiting Kushkations, you'll find yourself in cannabis heaven with this Cannabis-infused flourless chocolate cake. At Kushkations our guests love to take part in our numerous amenities that will keep you entertained for hours. Whether it's relaxing in our hot tubs, watching your favorite movie in the large screening room, or playing some outdoor games, there is something for everyone when you book with Kushkations.
Today we are going to explore a cannabis recipe that will be sure to fancy your sweeter side. Watch the video. Cannabis desert making is not that different than making any of your regular favorite desserts. You can get as creative as you need with it.

Today's Kushkation recipe is a decadently rich and smooth cannabis-infused dark chocolate flourless cake with berries and homemade whipped cream. In this cannabis recipe, we will be using a decarboxylated extracted Coconut oil or butter to ensure there is no loss of potency from the cannabis into the chocolate.
This fudge textured, dark, rich, and deliciously moist flourless chocolate cake is naturally gluten-free. It also requires very little time, ingredients, and any special tools, decorating, or assembly.
Some reasons why you will love this cannabis-infused flourless chocolate cake
Cannabis-infused
Chocolate
It is a 1 bowl cake recipe
Texture like fudge brownies
Rich and chocolatey
1 piece is sure to satisfy your chocolate craving
Dense and moist
Naturally gluten-free
No fancy plating, layering or decorating
Topped with berries and whipped cream
Breakdown of ingredients and cannabis supplies that you will need
6 ounces of semisweet or bittersweet baking chocolate
8 tablespoons infused oil or butter, room temperature
3/4 cup granulated sugar
1/4 teaspoon salt
2 – 3 teaspoons of espresso powder
1 teaspoon vanilla extract
3 large eggs
1/4 cup Oat milk
1/2 cup Cocoa powder
1 tsp of baking powder
Berries for topping
Whipped Cream for topping
About the Ingredients
Chocolate & Cannabis-infused butter or oil: Melt butter or oil and chocolate together. It's important to use pure baking chocolate because you will get a richer flavor and texture. You need two 4-ounce semi-sweet chocolate baking bars. Any brand but I like Ghirardelli. You need 6 ounces for this recipe.
Eggs: Eggs will take the place of flour. And like they do in homemade brownies, eggs create the bulk of this cake's moist, fudgy texture. They also help the cake rise.
Sugar, Vanilla Extract, & Salt: Sweetens/adds flavor.
Oatmilk: Adds a little more liquid to the cake
Espresso Powder: Espresso powder deepens the chocolate flavor and does not make your cake taste like coffee.
Unsweetened Cocoa Powder: Use dutch-process cocoa powder or natural cocoa powder. Cocoa powder helps take the place of flour.
Baking Powder: A small amount of baking powder will add extra lift to this normally flat cake.
Steps to making your cannabis-infused flourless chocolate cake:
Preheat oven to 350°. Grease a 9-inch nonstick pan with shortening and line bottom with parchment paper so it is ready for easy removal from the cake when cooled.
In a small saucepan over low heat, melt chocolate, cannabinoid-infused coconut oil, and sugar together. Gently stir until ingredients are fully incorporated. Set aside to cool while you make the rest of the cake batter.
In a large bowl, sift the cocoa powder, espresso powder, baking powder, and salt together.
Whisk in 3 eggs, oat milk, and vanilla extract until ingredients are fully incorporated.
Sift the dry ingredient mixture into the wet ingredients. Using a rubber spatula, gently stir until there are no more large lumps of flour.
Pour the batter into the prepared pan and smooth out evenly with a spatula or the back of a spoon. Bake at 350° for about 30 minutes for a 9-inch square pan (almost all of my cakes were done at 30 minutes, but check on yours 5 minutes before the end of the recommended time). If you're baking in a glass or ceramic dish, start checking for doneness after 20 minutes.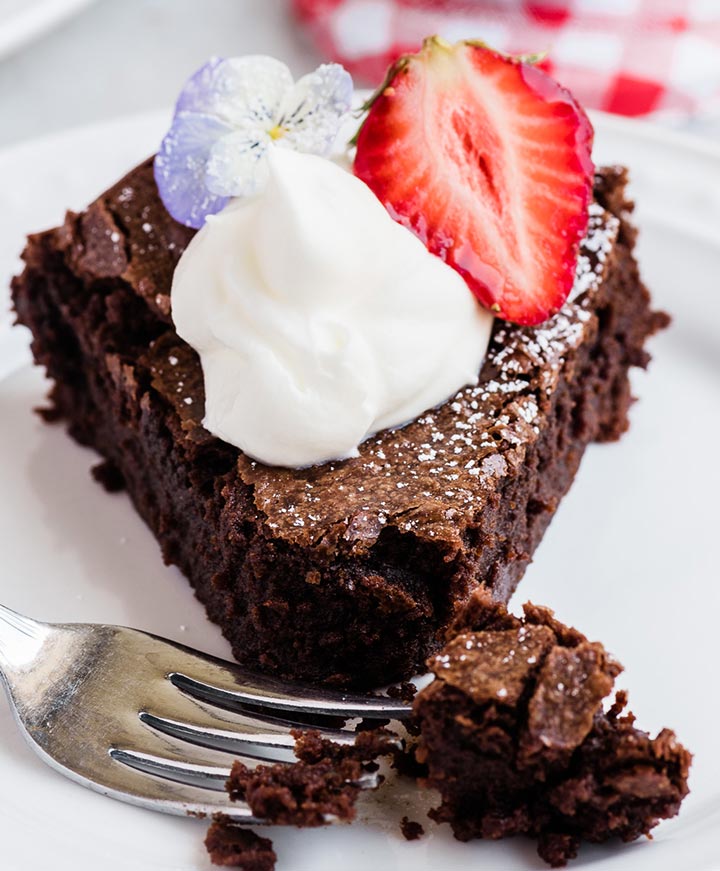 The cannabis-infused flourless chocolate cake is best served hot with whipped cream and fresh berries on top.
Kushkations is an eclectic destination with plenty of unique activities waiting for you and your friends to come to try them out! We hope you will try out this Kushkations recipe and enjoy it. With all sorts of different things happening at once, Denver is the place that has something for everyone. Book your Kushkation today.