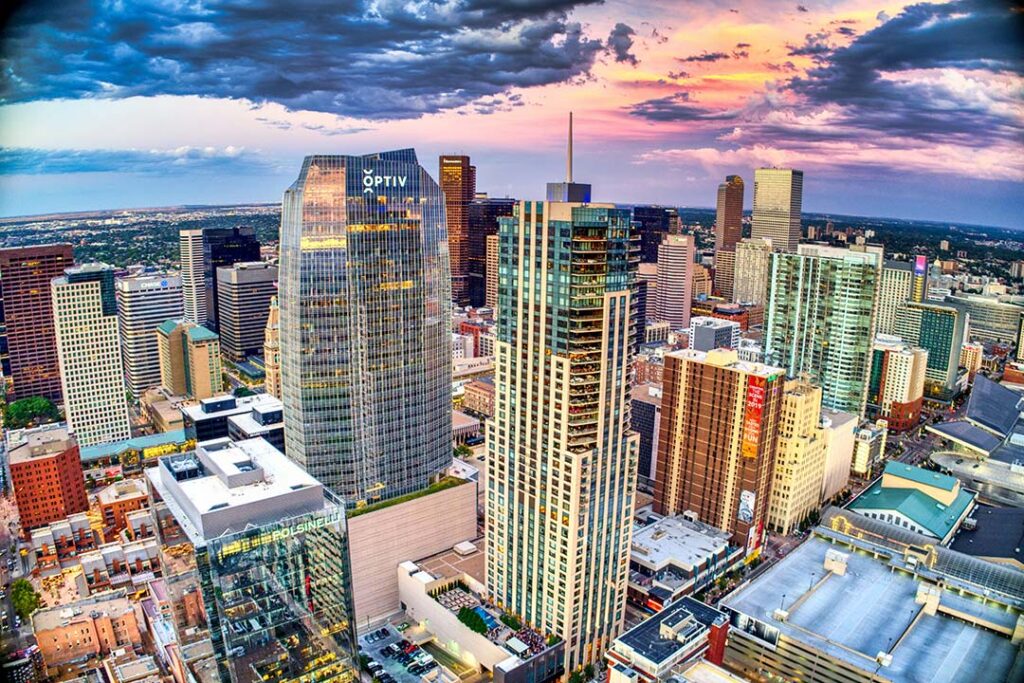 There are so many types of people in this world. Some people love to go on vacation, some hate it. But one thing is for sure: everyone loves to get high! So if you're a person who likes to have a good time while they travel, then we've got the perfect vacation destinations for you! Here is our list of six 420-friendly Denver vacation rentals that will help make your next trip an absolute blast (inside and out)!
Need a Denver vacation rental that's 420-friendly? We've got you covered! Denver is one of the most popular tourist destinations in Colorado, and for good reason. Denver has all sorts of things to do, people to meet, and places to explore. But if you're someone who likes to enjoy some weed on your travels (and we don't blame you!), then Denver can be a little overwhelming with options. We created this blog post with our list of the top 5 Denver vacation rentals that where getting elevated is part of the vacation experience. Keep reading to learn. more about our pics for the top five 420 friendly Denver area vacation rentals.
Number one on the list is the Kushkations Beach property. This 420 friendly home is breathtaking with an abundance of natural lighting, glossy hardwood flooring, and a broad lounge with a grand open layout that is ideal for fun gatherings, a family game night This is a 4 bedroom, 2 bath home that can sleep up to 10 comfortably, but we will accommodate 12 guests. This modern property comes with all the amenities you could want for your 420 friendly vacation sta. Amenities include flat-screen TVs, a gas fireplace, and an iPod dock, and more.
Number two on the list is Denver's 420 friendly Mountain View Condo. This luxury condo has everything you need for your next Denver vacation rental experience! It features modern amenities such as Smart TV with Netflix access, hardwood floors, and more. Enjoy a candlelight dinner on your private balcony and breathe some of that fresh Colorado air as you take in the scenery of the mountains. Kick-off your morning adventures with a wake and bake session in front of this gorgeous view over your morning coffee. Mountain View is perfect for a couple that want a romantic 420 mountain view getaway.
Our third pic for Denver vacation rentals is the Denver 420 friendly Quivas. This spectacular home features a large, open living room with plenty of seating that's perfect for entertaining friends and family. Quivas is a beautiful 420 friendly, 5 bedroom, 2 bathroom home located 10 minutes from downtown Denver, Colorado! Pull into your private driveway as you host guests at Quivas with a theatre room, game room, hot tub, and much more. KushKation Quivas's is stylish and modern, featuring top-of-the-line appliances and beautiful upgrades throughout including the kitchen, bathrooms, and entire home.
Number four on the Denver 420 friendly vacation rental list is Denver's top-rated and most popular 420 friendly property: Pierce! This 4 bedroom, 2 bath home features a steamy brand new hot tub with 30+ jets, an in-home theater with a 120-inch projector, and a gorgeous front porch equipped with a newly furnished patio set, fire-pit, and waterfall. This KushKation also has a fully loaded game room with foosball, air hockey, basketball, and a retro Pac-Man arcade game. Entertain guests at Pierce Links, our newly installed 420 friendly beer pong putt course. In each bedroom, you will find a comfy queen bed and a 32 Roku Smart TV. At Kushkations Pierce you are only a 15-minute drive or Uber ride away from Downtown Denver and 30 minutes from the Denver airport. There are modern upgrades throughout the home including brand new kitchen cabinets and gorgeous skylight windows.
Number five on Denver's 420 friendly vacation rental list is Denver's luxurious and spacious Kushkations Hotbox. Hotbox is a beautiful 420 friendly, 4 bedroom, 2 bathroom home located 10 minutes from downtown Denver, Colorado! KushKations living room is equipped with a pool table, foosball table, two 50 inch tvs. We also have a theatre room, a hot tub, a basketball hoop, and an outdoor gas fireplace. Enjoy this stylish and modern home for your next vacation and remember that at Kushkations we do it right.
Our final vacation 420 Denver destination on the list is the spacious and beautiful Ganja home. This Denver vacation rental can accommodate up to 14 guests with its six bedrooms, two bathrooms. The house has a large backyard as well! The beautifully landscaped backyard was designed for outdoor fun and entertaining. It includes a deck for lounging and dining that features plenty of seating areas so you never have to worry about feeling cramped at any point during your stay. You will not want to pass up the hot tub and the outdoor games for hours of fun. If you love games then this is the place for you. Back on the inside, you will find a 120in projector screen perfect for watching your favorite teams and movies, air hockey, Skee ball, and foosball table. This is one of the most fun places to be on a Denver 420 vacation. Contact Kushkations today and book your next trip.
Denver, Colorado has a vibrant social scene that includes everything from 420-friendly Denver vacation rentals to craft breweries and recreational weed dispensaries. That's how Denver became one of the top three cannabis capitals in America! We're proud of our city for embracing this new industry because it means more opportunities for lifelong Denver residents. We hope you enjoyed this blog post and have a good idea of where to stay on your next Denver 420 vacation. If you have any questions don't hesitate to ask. See you soon.